Wanted Criminals
Previous    Back to Wanted Criminals       Home    Next
Ref: 23/8/2002/W6 Quote Ref. Number & EMail to: scrbap@hotmail.com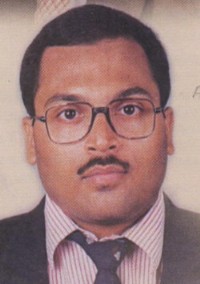 Crime Details
He was a Board of Director of Charminar Co-operative Urban Bank Limited, since November, 2000. During his tune he conspired with chairman, other Board of Directors and Bank Officials and sanctioned loans to the browsers to a tune of crores of Rupees and thereby cheated the bank and the depositors amounts were swindled away.
<![if !supportEmptyParas]> <![endif]>
POSSIBLE PLACES OF LOOK OUT
| | |
| --- | --- |
| | Mumbai |
| | Hyderabad and |
| | Dubai (United Arab Emirates) |
<![if !supportEmptyParas]> <![endif]>
Name

HUZEFA IBRAHIM BAHROIN

Alias

Sex

Male

Father/ Guardian

Ibrahim J.Bahroin Wala

Office Address

Embee Consultants 5 Racka Manzil 44 Sarang Street, Mumbai-400 003. Mumbai, Dubai Hyderabad. Former Director of Charminar Bank Hyderabad.

Approx. Age

35 years / 2002

Height

About 5'.7"

Built

Normal

Hair

Having small cropped hair

Complexion

Fair

Identification Marks

Languages spoken/ Known

Hindi and English

Weapons used by criminal

Vehicles used by criminal

Modus Operandi

He had close association with Mr.Agha, Chairman of CCUB and become Director of CCUB

Address for Correspondence

1. Addl. DGP., CID A.P. Hyd.

2. Superintendent of Police,(Telangana) CID., Hyd.

3. Dy. Supdt. of Police, CID., City Zone Hyd.

STD and Phone Numbers of SP

040-3232879, 040-3232889, 98480-16698

040-7852270, 3297474.

FIR Number

Criminal case running in CID., of A.P., in Cr.No.3/2002 U/s 409, 420, 120-B IPC & Sec.5 of A.P. Protection of Depositors Financial Establishments Act, 1999

Police Station

C.I.D. P.S.

District

Hyderabad

EMail address of S.P

Reward if any

Suitable reward will be given and identity and informant will be kept secret.
Criminals
Previous    Back to Wanted Criminals        Home    Next
Ref: 23/8/2002/W6 Quote Ref. Number & EMail to: scrbap@hotmail.com
<![if !supportEmptyParas]> <![endif]>