Wanted Criminals
Previous    Back to Wanted Criminals        Home    Next
Ref: 23/8/2002/W8 Quote Ref. Number & EMail to: scrbap@hotmail.com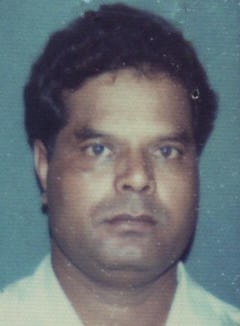 Crime Details
He has barrowed loan of Rupees about 1.5 Crores to develop his business called Sri Sai Auto works at Uppal, Hyderabad.. On enquiries no such business establishment is in existence. there by he cheated the CCUB. He has been absconding ever since the loan was taken from CCUB. The properties mortgaged does not even belongs to him.
<![if !supportEmptyParas]> <![endif]>
POSSIBLE PLACES OF LOOK OUT
| | |
| --- | --- |
| | Hyderabad City |
| | Andhra Pradesh |
<![if !supportEmptyParas]> <![endif]>
Name

K.R.Rabinder

Alias

Sex

Male

Father/ Guardian

K.Indra Reddy R/o Nalgonda

House Address

R/o Plot.No.104, Surya Nagar Colony, Uppal, Hyderabad.

Approx. Age

40 years / 2002

Height

About 5'5".

Built

Stout

Hair

Cropped hair

Complexion

Fair

Identification Marks

Languages spoken/ Known

English and Telugu

Weapons used by criminal

Vehicles used by criminal

Modus Operandi

He is borrow loans on fictitious firms and disappear after the loan amount is availed.

Address for Correspondence

1. Addl. DGP., CID A.P. Hyd.

2. Superintendent of Police,(Telangana) CID., Hyd.

3. Dy. Supdt. of Police, CID., City Zone Hyd.

STD and Phone Numbers of SP

040-3232879, 040-3232889, 98480-16698

040-7852270, 3297474.

FIR Number

He is wanted for enquiries about the loans and the firm.

Police Station

District

Hyderabad

EMail address of S.P

Reward if any

Suitable reward will be given and identity and informant will be kept secret.
Criminals
Previous    Back to Wanted Criminals        Home    Next
Ref: 23/8/2002/W8 Quote Ref. Number & EMail to: scrbap@hotmail.com
<![if !supportEmptyParas]> <![endif]>